Birthday Parties In Boise
Have a Special Birthday Party That Will Be Remembered Forever!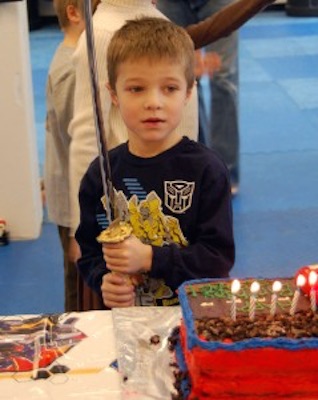 Imagine the look on your child's face when a Ninja rappels from the ceiling, into the middle of the party, and bestows the great honor of cutting the cake with a very special birthday Samurai sword.
This special party for your child will be remembered for years to come. Whether it's a Dart Tag Party, Princess Party, 2 1⁄2 hour Super Party, All Night Lock In Party, or one of our other themes, you, your child, and guests will have a super memorable day.
Parties for Adults Too!
Adults are allowed to have fun too! This 3 hour private party involves us closing to the public, and giving you and your guests a birthday experience to be remembered for years to come.
We've got a line up of adult games, hilarious Minute to Win It challenges, Ropes Course, and tons more. And, since we're closed to the public, you have the option to bring your own beverages and caterer.
Taking Care of Your Party From A to Z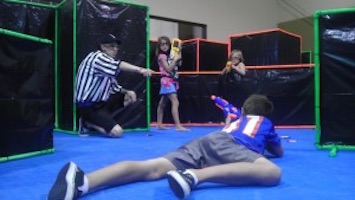 Meaning... we can provide the food and drinks from our Flatbread Cafe', plus the utensils, plates, and napkins. The only thing you need to do is show up with the cake.
Our staff will provide a themed character, activities corresponding to the theme, and a birthday party room. You don't have to worry about clean up, spills, or kids ransacking your home. We'll even provide you a list of all the gifts and who they came from should you decide to send thank you cards. After all... it is your day too! Might as well enjoy it stress free.
Choose from 5 different Types of Parties
Our most popular party and great for all ages, especially those excited about a particular theme.
Time: 1 1/2 hour
Cost: $179 & up
A great option for kids 8 to 12 years old, and includes the Ropes Course, Dart Tag, and Ninja Warrior.
Time: 2 1/2 hour
Cost: $299 & up
Lights out, music up, and disco in full effect. This is a Cosmic Dart Tag and Ropes Course experience is great for 10 to 14 year olds.
Time: 1 1/2 hour
Cost: $199 & up
All Night Lock In Birthday Party
An all night experience, that incorporates practically every aspect of BIM, including games and challenges. A perfect event for 10 to 16 year olds.
Time: 12 hours
Cost: $1199 & up
Adult Super Birthday Party
Adults are allowed to party like it's 1999 too! Bring your fancy beverages, and we've got the rest.
Time: 3 hours
Cost: $699 & up
Please provide your first name and email, and our digital waiver will be sent to you immediately.